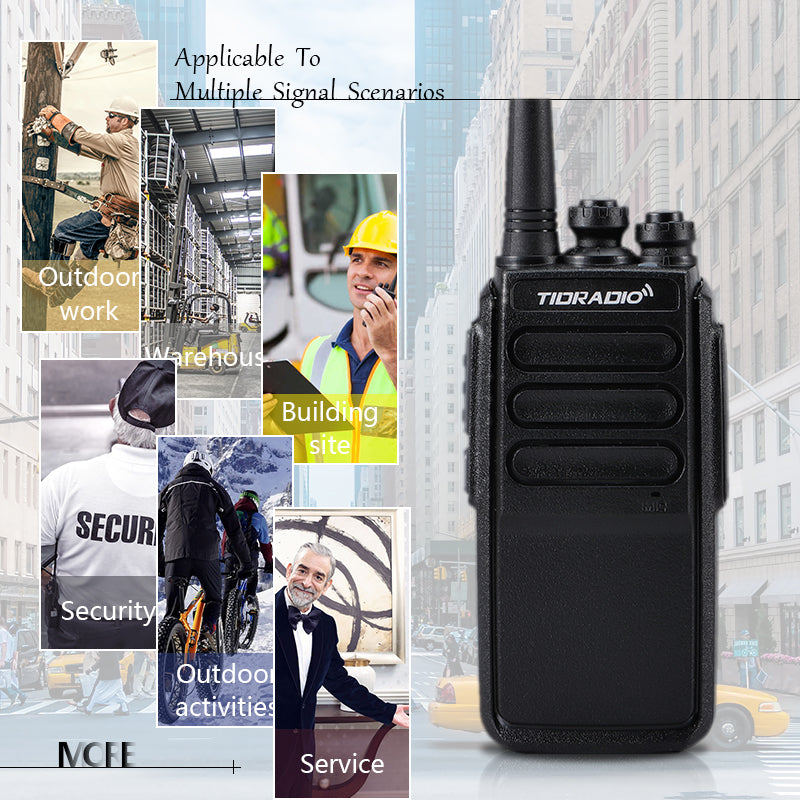 If you're a business owner, you know that clear and consistent communication between staff is crucial. You don't want to wait until a busy weekend to test your communication needs. Cell phones, especially in a business setting can be unreliable; they may lose charge quickly, drop a signal, or be turned to silent. Also consider talking or texting on your cell phone appears unprofessional. License free two way radios are the perfect solution to replace cell phones in the workplace.
Radios are an efficient and inexpensive means of immediate communication, whether it be from the host stand to the kitchen in a restaurant or from the dressing rooms to the register in a boutique. The push-to-talk functionality is quick and simple, not to mention a great look for your business. License-free radios are a great choice for small-to-medium sized businesses, because they are less expensive and, of course, don't require an license for use.
THE BEST LICENSE-FREE TWO WAY RADIOS FOR BUSINESSES
We don't want to waste your time with a long list of radios. Below are the two best license free radios we recommend for business owners. The walkie talkies below are simple-to-use and come pre-programmed, so you can spend less time fumbling with radios and more time running the show. Try these radios in your business for a well-organized, competent system of communication.
1. TID BF-888S BUSINESS RADIO BUNDLE
The BaoFeng BF-888S business radio bundle is our most affordable option and to offer a convenient out-of-the box solution. When you are busy taking care of your customers, the last thing you want to do is run around your business to find your employees or shout across the floor to ask a simple question.

The BF-888S is an business radio. While this radio is relatively compact in size it is big on performance, Ready to use right out of the box with 16 pre-programmed business band channels or can be custom programmed using the free programming software.
2. TIDRADIO TD-777 TWO-WAY RADIO
This durable radio is just right for any professional setting. The TIDRADIO TD-777 two way radio is the most powerful license free business radio TIDRADIO offers and features a USB charging port, 16 channels, Keep communication amongst staff consistent and clear, with hands-free and silent operation, a headphone jack, rechargeable batteries and desktop charger.

Whether you are working out of an office, operating a grocery store, running a childcare center, or providing church security the TD-777 walkie talkie is a great fit for your business needs.
Need six or more radios? Check out the TIDRADIO TD-777

 

Business Bundle.
As a small-to-medium sized business owner, you know that the needs of your customers and employees are of the utmost importance. Make sure your business is running smoothly with any of the radios listed above. 
BULK ORDER
TIDRADIO welcome you to make bulk order, and now it is the best time to stock up. We will offer the special offer when you make bulk order.