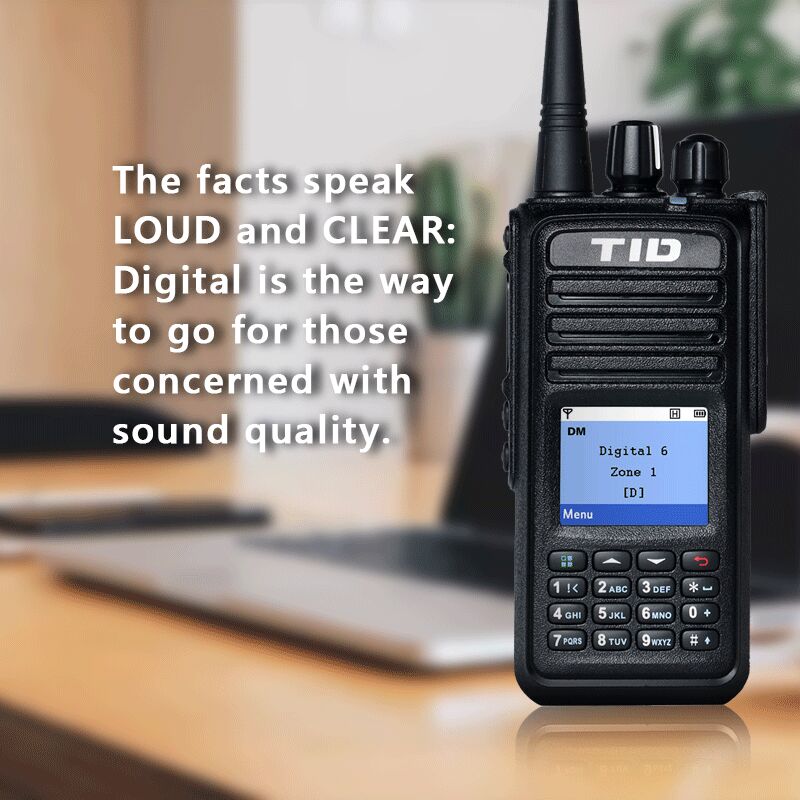 DMR Radio VS Common Analogy Radio
DMR radio is much more fashionable with longer commucation.

DMR radio has much more Channels, also, Loud and Clear is very distinguishly most important.

DMR radio has become the major trend, which complys with International Standard Radio legally.
TID TD-DP880 is your best DMR radio choice, why?
You know, DMR radios can talk to DMR radios, but our TID TD-DP880 can operate in both Digital & Analogue mode. In other words, TID TD-880 can not only talk with DMR radios, but also other common analogy radios.
Because TID TD-DP880 covers all functions of most famous brands, also, with better quality and 3-year after-service. Most importantly, TID TD-DP880 is with most favorable price, ONLY $119.9 so why not choose TD-DP880?
ABOUT TID TD-DP880
✅Dual band DMR digital two way radios enable monitor both DMR and analog on both bands. 2000mAh high-capacity battery is enough for days usage;
✅Walkie talkies with 64 zones 512 channels you have more options of communicating;
✅Each radio comes with the large color LCD display. Support PC programming and software upgrading for new functions life-time-free;
✅Power save features can extend battery life. low battery alarm advises you to recharge or replace the batteries;
✅High/low power and crystal clear reception can meet your need in indoor and outdoor activities. sound transmission range is also obviously dependent on obstacles;
✅TID TD-DP880 dual band DMR digita two-way radio with programing cable, which is a perfect choice for DMR beginners and business activities.
Dual Band: This two-way radio features UHF and VHF frequency, you don't need to buy and carry two VHF or UHF radios when you travel. It also helps you connect more repeaters at the same time and monitor two channel at same time.
DTMF function: DTMF function helps you quickly operate multiple repeaters and rely on this radio as your everyday carry.
2000mAh battery capacity: Big battery capacity is about 8-12 hours continuous use, 150 hours standy time with full charging, is enough power for your hiking or other outdoor activities.
FEATURES
UHF: 400-470MHz / VHF: 136-174MHz
Dual PTT Operation
Various Scanning Functions
512 Channels, 64 Zones
VOX Function
Power Save
Emergency Alert
1.77 inches Large TFT LCD
Monitor
Kill/Wake up
Squelch Control
Lone Worker
DTMF / CTCSS / DCS encoding and decoding functions
Secure Encryption Communication
Private Call, Group Call, All Call and Emergency Call
Wide / narrow (12.5KHz / 6.5kHz) Select
TOT transmission limit function
Password Protection when turn on the radio
High / Low Power Output